How to Find The Best Chiropractor
Have you ever typed "find a chiropractor near me" into google hoping to find the best chiropractor for you or your family? If so, you're not alone.
Finding a good chiropractor isn't easy. But taking the time to find the best chiropractor is an essential part of anyone's personal health and wellness plan.
And while your motivation to simply find a chiropractor and walk in and get adjusted is high, you might want to make sure you're a good fit.
This is why simply going online to find a list of names isn't the best approach either.
All that said, there are some easy steps you can take when trying to figure out "how to find a chiropractor near me?"
And by taking these steps, you can find a chiropractor who can help you the best way possible.
The best chiropractors can help you in a number of ways including:
Providing drug-free, non-invasive treatments
Offering full body chiropractic adjustments
Giving diet and exercise advice
Offering a safe and reliable way to recover from sports injuries
Allowing a safe pain management option for pregnancy
Advising you on daily changes to reduce your pain
Helping with personal fitness challenges
Here are a few steps to help with finding the best chiropractor near me.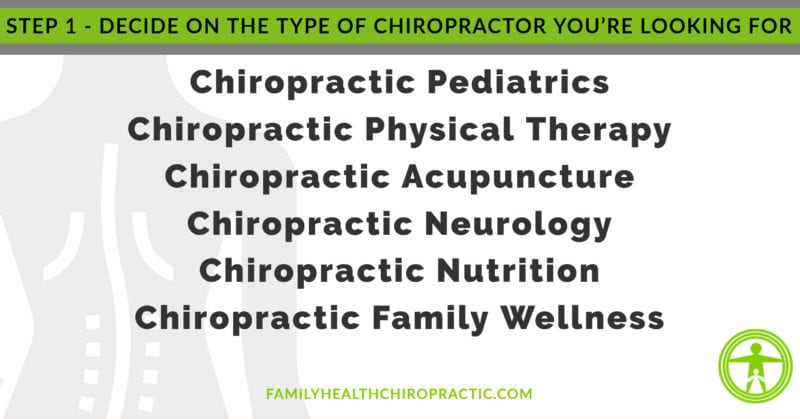 Step 1 – Decide What Type of Chiropractor You're Looking For
Take some time to think about the different techniques that chiropractors can use to help you out.
This one of the most important steps in finding a good chiropractor.
There are Doctors of Chiropractic who are only concerned with treating and managing your pain, and there are chiropractors who are not interested in pain management at all; but helping you to achieve optimal health and wellness.
A few things that chiropractors specialize in:
Structural Restoration of the Spine & Posture
Physical Medicine and Rehabilitation
Nutrition
Acupunture
Massage Techniques
Functional Medicine
Chiropractic Pediatrics
Chiropractic Neurology
In no way am I saying that one style of practice is better than the other, but it's important that you realize that not all chiropractors offer the same type of of care.
We've had patients come into our office who said they've been to a chiropractor before but were never given any chiropractic adjustments!
The specific technique that we offer is known as CBP® or Chiropractic Biophysics.
Chiropractic BioPhysics® is the most researched technique in chiropractic with over 250 peer-reviewed publications. No other chiropractic technique comes close to the validation and effectiveness that has been proven by CBP®.
CBP® Technique emphasizes optimal posture and spinal alignment as the primary goals of chiropractic care while simultaneously documenting improvements in pain and functional based outcomes.
The uniqueness of CBP® treatment is in structural rehabilitation of the spine and posture.
We take digital posture and xrays both before and after treatment, to make sure that we are achieving the results that you need to get better.
If you want to search for CBP doctors, you can search from the CBP database: https://idealspine.com/directory/
On top of offering CBP® at Family Health Chiropractic, we also offer:
Nutrition Consulting
Blood Chemistry Analysis
Functional Rehabilitation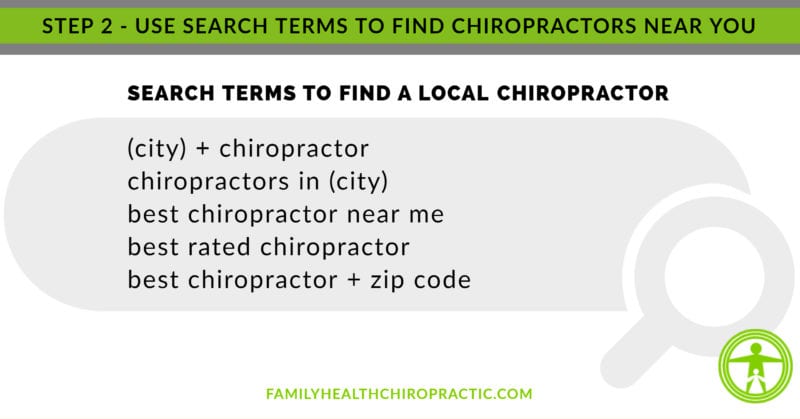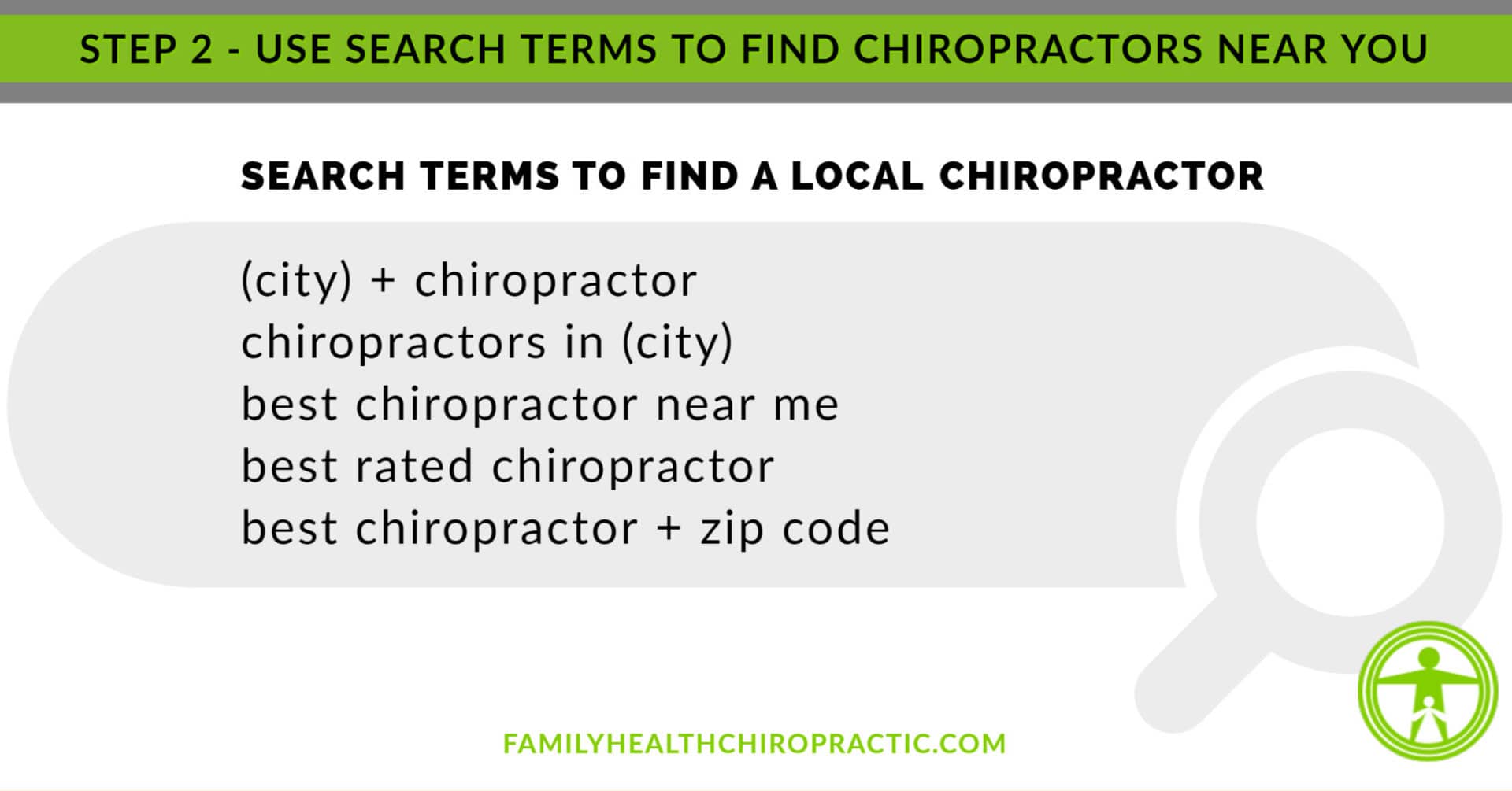 Step 2 – Search for "Best Chiropractor Near Me"
Finding a good chiropractor that is close to you is helpful. So try the following search queries to see who's around you:
austin chiropractor
chiropractors in austin
best chiropractor near me
best rated chiropractor near me
best chiropractor+ your zip code (ie best chiropractor 78746)
Family Health Chiropractic is at the center of Bee Caves Rd between Highway 360 and South MoPac Expressway.
We are centrally located for most people living in Austin Texas.
This means we're a:
10-15 minute drive from Downtown Austin
15-20 minute drive from South Austin
20-30 minute drive from North Austin
In the past, we've had patients come to see us from all over Austin, including:
Round Rock
Manor & Elgin
Bastrop
Lockhart
Kyle
Driftwood & Dripping Springs
Lakeway
Cedar Park
We even have patients that come from out of the country!
I'm proud of the fact that people are willing to travel to come see us, but at the same time I'm usually the first person to say that I don't want you stressing over driving or having to come see us.
So while I appreciate every single person who wants to visit our office, I just want you to get the care that you need and I'd be happy to know that you have found a chiropractor close to you that works out.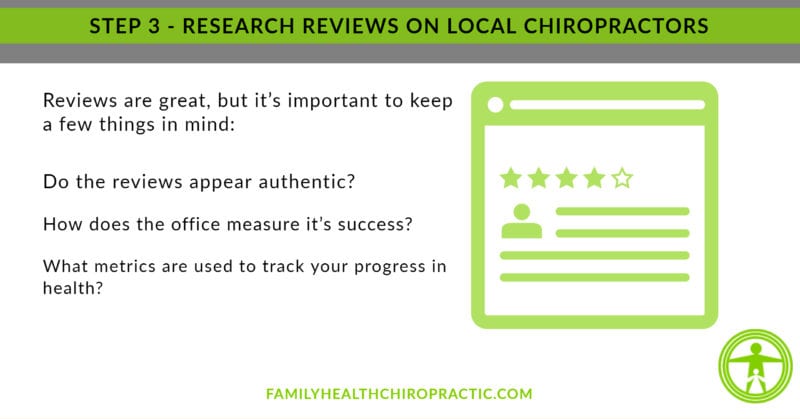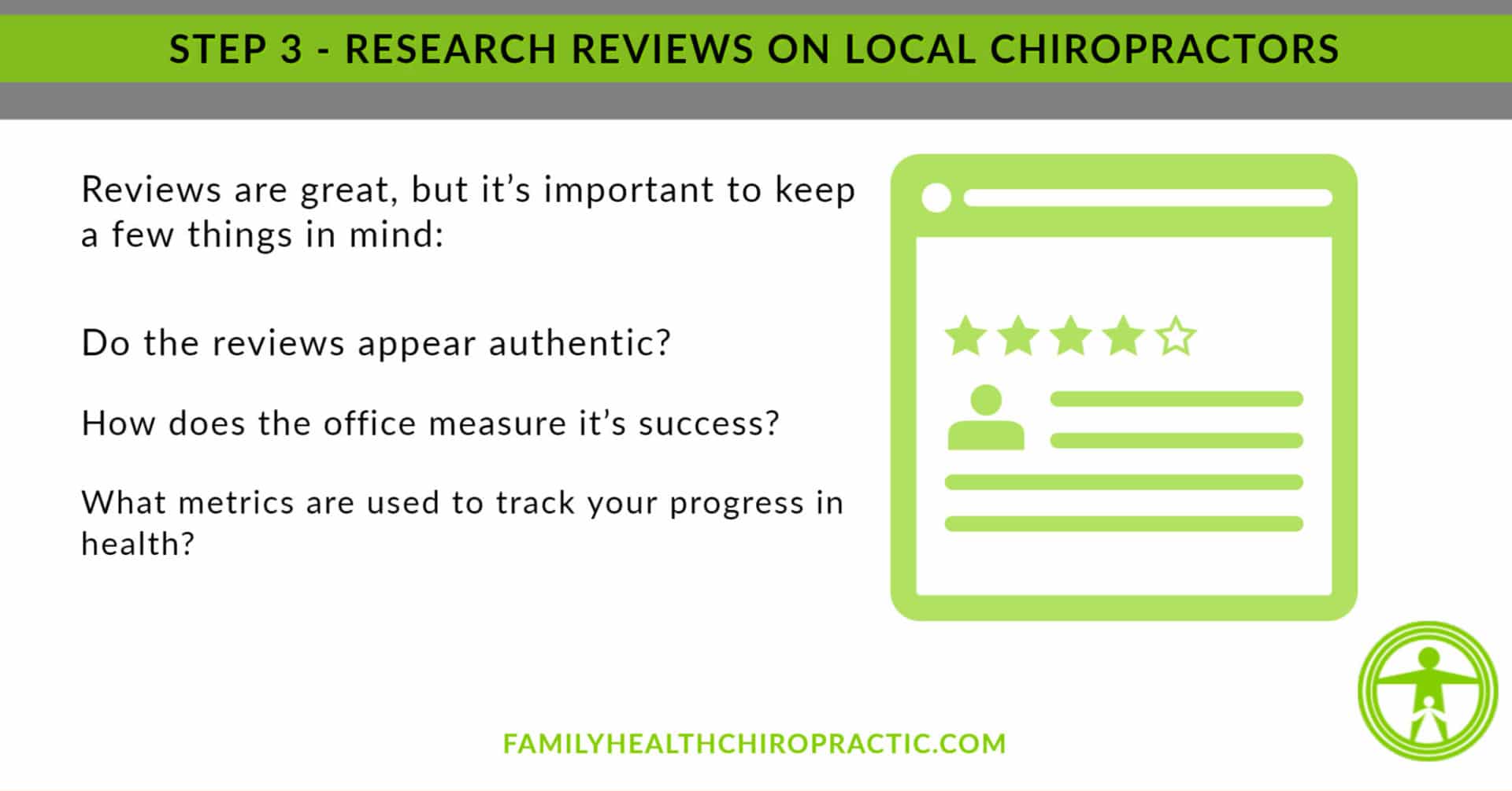 Step 3 – Read Reviews for Chiropractors Near Me
In 2018, online reviews influenced 66.3 percent of consumers when they were looking for a new primary care physician, which is the second-highest influence of any industry.
More than ever, people are visiting websites to find a new healthcare provider, and reviews are influencing decisions.
Our practice measures its success based on the results we get.
Our results are based on our ability to improve the health and outcome of our patients, structural and postural changes that occur over time, measured via xrays and digital posture and patient satisfaction.
We keep track of validated outcome measures that track personal health and symptoms and we appreciate all the reviews that come our way.
At the time of writing this article, we have over 100 5-star reviews on google.
Reviews are great, but it's important to keep a few things in mind such as:
Review sites are based more on opinion than actual data showing how well a doctor provided treatment or care.
Some rating websites may promote doctors who have a "paid" rather than "free" profile.
Use the information to help you decide. But don't rely on it entirely. Consider what else you know, too.
Out of all the review sites there are, make sure that it's not a "paid" site (ie Angie's List, Yelp, etc) which is more biased towards the paying doctor, rather than giving you honest reviews.
Finally, does the doctor have a way of demonstrating actual improvement or measuring improvement?
Our Austin Chiropractic office uses a series of measurements to track results including research based outcome assessment forms, digital posture and even Xray exam comparison studies.
Every single patient who starts at our office will complete assessments to quantify how they're feeling, undergo a full posture and spine xray exam and then receive specific chiropractic and physical therapy or exercise recommendations based on those results.
While that is all great, we take it a step further and after so many visits, re evaluate all of the initial finding to make sure that you're actually getting better.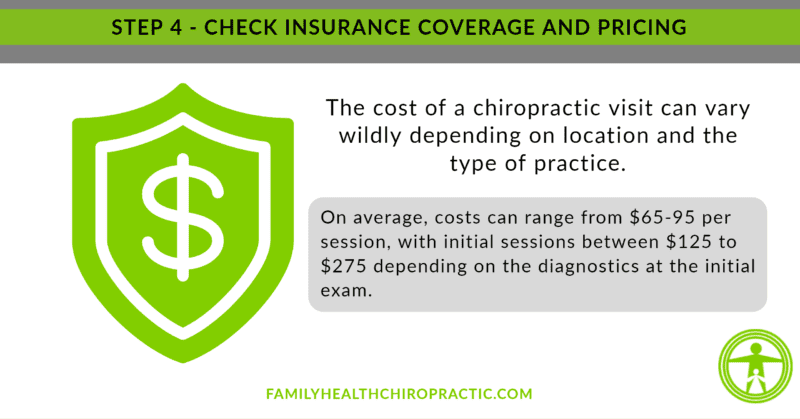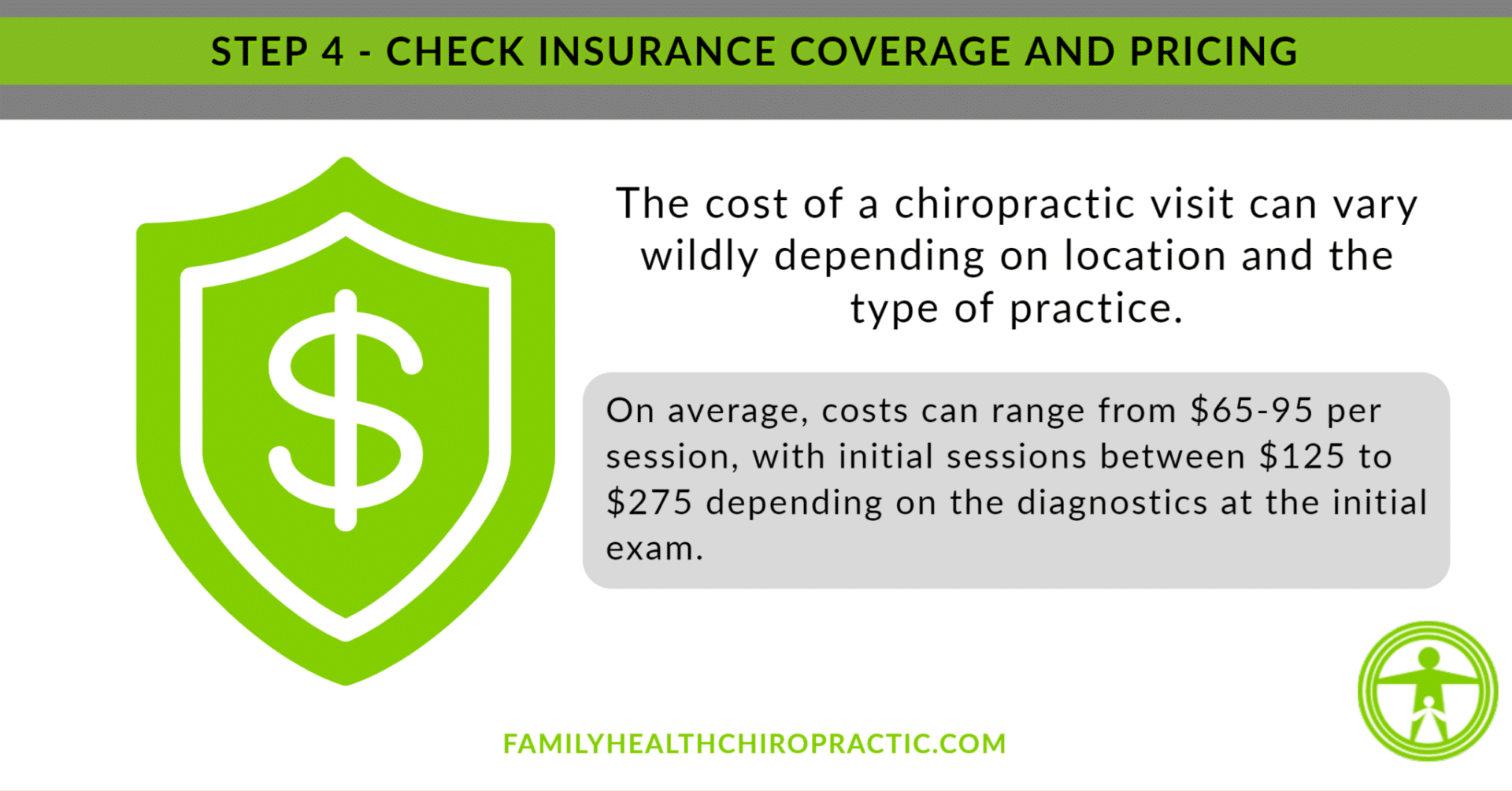 Step 4 – Check Insurance Benefits or Pricing
Insurance is like cable or our cell phone carrier – no one is ever really satisfied. But it matters!
Health is something that I personally feel is non-negotiable when it comes to cost.
You either pay to be healthy, or you pay when you're sick. You pick.
But checking for insurance coverage is a practical matter. To receive the most insurance benefits and pay the least out-of-pocket for your care, you may need to choose a chiropractor who participates in your plan.
That said, picking a chiropractor (or any doctor) simply because they're in your "network" or accept your insurance is not the best place to start.
Just because someone accepts your insurance, doesn't mean that they are going to do your body any good.
The cost of a chiropractic visit can vary wildly depending on location and the type of practice.
It can range from $30 to around $200 depending on the state you live in and the experience of the doctor.
On average, costs can range from $65-95 per session, with initial sessions between $125 to $275 depending on the diagnostics at the initial exam.
Don't be afraid to discuss costs upfront so you have a clear idea of the cost before you commit to a treatment plan, and also see whether it's covered or partially covered under your insurance plan or through your employer.
A Side Note on The Number of Treatments To Expect
Chiropractic treatment aims to look at the root of the problem, so the number of treatments can vary from patient to patient depending on where they are at.
Generally speaking, it can take 6 to 12 visits just to begin to change your pain pattern. This does not mean your spine is correcting, but that the pain is simply diminishing.
As an example, a recent piece of research published by the American Chiropractic Association found that patients receiving care three to four times a week, for 3 weeks noted a substantial reduction in pain intensity.
But research has found that on average it will take 3-4 months of care to begin changing the actual structure and posture of your body! This is simliar to exercising… you can't expect six-pack abs from 1 or 2 weeks of working out.
In your initial consultation your chiropractor should put together a treatment plan that is tailored to your specific requirements including the estimated number of sessions needed.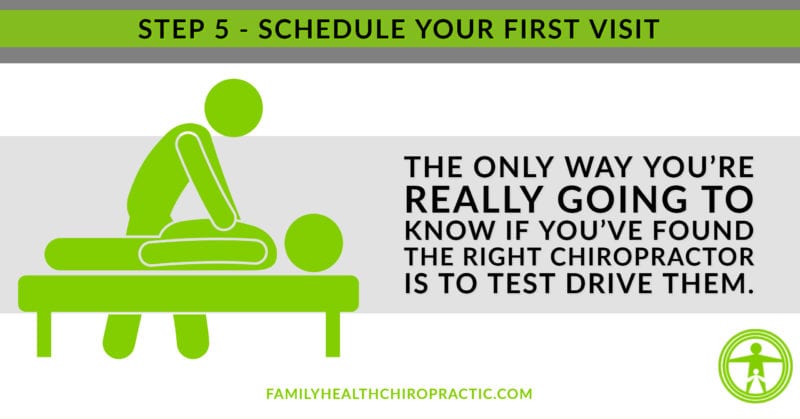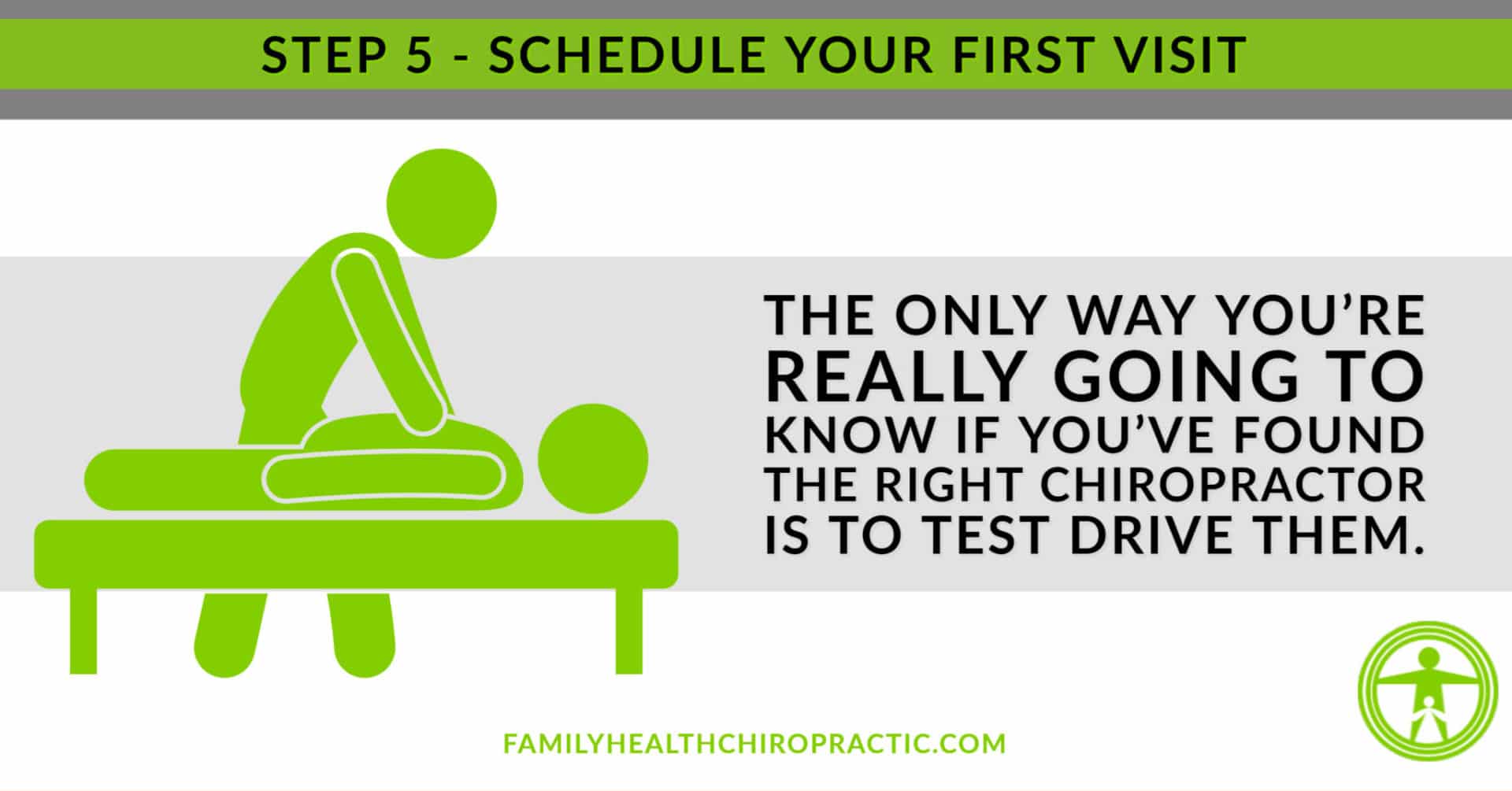 Step 5 – Stop Thinking and Make A Decision!
The last step to finding a "Chiropractor Near Me" is to call and schedule your initial visit.
We get it. It's nerve wrecking and uncomfortable to try something new. But we promise, you'll feel amazing after your first visit!
Most clinics will require an examination of some kind (hopefully) and some level of diagnostics (movement, posture, xrays, etc.).
I personally would never want someone to adjust my spine without first having looked at XRays.
So if a chiropractic clinic does not offer x-rays, I start to get a little suspicious.
How the heck will they really know what's going on, much less if I'm getting better down the line?
Remember – What gets measured, gets managed!
Here's a list of Austin Chiropractors that our office has referred to in the past:
North Austin (Cedar Park, Round Rock)
Salus Chiropractic
Austin Life Chiropractic
Absolute Life Wellness Center
Central Austin (West Lake Hills, Downtown)
Family Health Chiropractic
Back 'n Place Chiropractic
Whole Family Chiropractors
South Austin (Sunset Valley, Circle C, Southpark Meadows)
Family Chiropractic of Austin
Infinity Wellness Center
Absolute Life Wellness Center